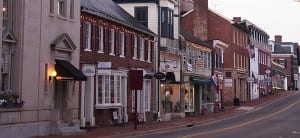 Good real estate website design can be the difference between your business making a killing and you sitting in your office twiddling your thumbs. Your website has to be able to communicate with the reader. It's not just about putting content and hoping that the visitor will take action. The website needs to impel the visitor to take favorable action. How does a good website achieve this? What are the attributes of website design that a real estate website must have? Let's take a detailed look.
Websites need to arrest the attention of visitors before they can even begin the process of communication. Your website needs to have the kerb appeal. Bold graphics, easily readable fonts, information that can be taken in at a glance, etc are important aspects that a good Northern Virginia web designer can put in place for you. The visitor may be there to gather information or may be keen on gathering information on specific listings, whatever the case; he should be able to get the required information easily.
The search bar should be above the fold, prime and popular listings should be above the fold, hard-hitting copy that attracts, and the value proposition on offer should be easy to understand.
Search, in fact, is the most important criterion, when it comes to designing a website for realty businesses. Your Leesburg VA Web Development company should be aware of the fact that a proper online search for property commences at least six to twelve months in advance. And given the fact that 90% of purchase-relate searches take place online, you need to have the answers to all questions that a potential property buyer or renter may have.
Your prospective clients will not only research properties but also agents…that means you. Their opinion of your business is going to be formed by what they make of your website. Reviews and user opinions are going to influence them, these too will be derived from what people make of you from your website and your business practices. Before property buyers or renters even get in touch with you, they will try and obtain as much information about you as possible. Make this easy for them and create a good first impression with a functional and informative website that truly brings out the positive aspects of your business.
Your communication with your clients in person depends upon how effectively you communicate with them online through your website.
Applied Tactics is an experienced Leesburg VA Web Development company, and we can not only develop a first-class real estate website for you but also help you with your SEO needs. We also provide dedicated hosting for our clients. It's a complete package.
We're there to take care of your hosting, SEO, and web development needs. The advantages of an SEO Loudon company that also offers other services include saving of both time and money, and also superior services because all the services are intertwined and getting them under one roof ensures that the provider knows what's required.
When we design your realty website, we will first sit down with you and answer questions regarding your prospective customers, the targeted geographical locations, local keywords that will boost business and those that can be easily ranked for, etc.
We will also brainstorm on the best ways to answer common questions raised by targeted customers. We are aware of the small things that impress your readers; for example, your USP needs to be prominently displayed. It could be quick results, low costs, or both. Testimonials and past results should catch the reader's eye. The site is an extension of your approach to property dealing and this should reflect in the design.
Our experience in web development in Virginia has shown us that there are certain key elements to a real estate website's success, and easy navigation is a very important one. We will ensure that your website is easily navigable by humans and search engine spiders.
An agency, such as Applied Tactics, with the necessary knowledge of internet marketing, will ask the right questions before creating a sitemap for the website. We firmly believe in the philosophy of KISS – Keep it simple, stupid. Something as elementary as using simple English for naming categories can make a difference between visitors clicking on a link or passing it by.
How powerful are your calls to action? Where should they be placed to attract attention? What is the relationship between a good call to action and website elements such as font size, color, and contrast with surrounding content? What should the web copy be like to build up successfully to a call to action?
Do you want readers to sign up for your newsletter? Do you want them to call you? We know the right approach to web designing so that each call to action on your website elicits maximum response from readers.
Real estate websites depend a lot on photos. You simply cannot have a great website on real estate without supporting textual content with imagery. Listed properties with good photos attract views. You need to ensure that you have great photos. Applied Tactics will ensure that the images are uploaded with the right naming, alt tags, and details so that you gain an advantage in the search results.
Strategically placed photos and videos pique visitor curiosity, help them form an opinion, and lead to more inquiries. Images are crucial to the success of your real estate website. Make sure you have a lot of photos and that you own the rights to the images.
Your property website has to be mobile friendly. And, we can ensure that it will be. Mobile is the present and the future. You need to have a presence there.
A real estate website can generate traffic through PPC ads, SEO, and affiliate networks. Applied Tactics can help with SEO and a website design that inspires confidence in prospective affiliates. Affiliates for a real estate website include inspection companies, remodelers, interior designers, and others.
These affiliates will come on board if they like what the website has to offer and if they are convinced, through your testimonials, that you have a good thing going. Of course, your affiliate program too has to appeal to them.
The bottom line to setting up and maintaining a successful real estate website is to know that your website is the first step in bringing together your online and offline marketing and sales efforts. You can get an endless stream of visitors and convert a healthy percentage, but only if you know how to get the best out of your website.